My favorite scene from my favorite movie Pulp Fiction is when Jules is going off telling Jimmy how good his coffee is while they're waiting for the Wolf to show up. Jimmy (played by Tarantino himself) shouts at Jules asking why he keeps talking about "gourmet expensive stuff" with a dead guy in the car. (Note: there's a lot of profanity here.)
The Wolf shows up, takes a sip of the very same coffee, tips his cup and get to the matter at hand. Check the video below to refresh your memory: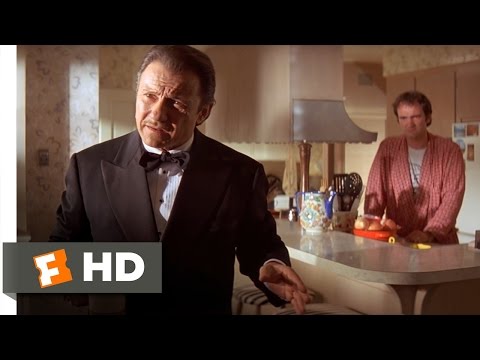 I love this scene. The simplistic brilliance always jumped out at me. Tarantino is a brilliant writer because of how simple and effective his scripts are. No words are wasted. With one simple gesture (the tip of the coffee) he's able to achieve what would take most other writers pages in character development.
The Wolf is badass. He's brought in when shit hits the fan to "take care of business". Tarantino first displayed Jules mumbling nonsensically about the coffee. The point of this scene isn't quite clear yet. Then, without words and in a split second exchange, he juxtaposed the image of the Wolf tipping his coffee signaling his appreciation not wanting to waste time. Go back and watch the video again now and think about how powerful Tarantino was able to convey his message in so few words.
The Focal Point and how I Practice it
"As simple as possible, and no simpler" – Albert Einstein
Interesting writing is not detailed, factual, and systematic. That's what text books are for. As a writer I don't aim to tell the reader what to do. My goal is to lead the reader along a path but let their imagination run wild. I want them to feel as if they're forming their own conclusion.
Sure I'll make my points and lay out my theory but I want readers to use my material to help their situation, not mine. I feel that this is what most writers are sorely missing.
Sounds nice in theory but this is a difficult way to write. You must get into the psyches of your reader, each and every one. The trick is to find one or two words or symbols that allow the reader to paint the whole scene. It's a daunting task and one that takes practice. Here's how I do it:
I watch.
I watch people everywhere I go. I fill notepads with my own musings that are never meant to see the light of day. My aim is to let my imagination guide me. The result is sometimes funny, sometimes interesting, and sometimes very very offensive.
On the subway you can find me looking around identifying the discerning features of everybody on that train. Sometimes it's white shoelaces, other times it's a missing button on a blouse, and occasionally I find glasses hilarious.
The Mad Bean Cafe is my favorite coffee shop in Toronto and I go there to practice Focal Point Observation whenever I have some time. Allow me to paint the picture for you on this day:
It's 11am on a Thursday and the coffee shop has 6 people in it.
The woman to my left has a beige bra strap (the kind you would buy in a 3 pack from Target for $4.99) hanging haphazardly off of her shoulder.
Across from me is 2 women and a man speaking spanish with a young child. The man is wearing sweatpants.
To their left is a girl on a iMac with what appears to be anatomy lecture notes.
On my right is a woman wearing a beaded necklace with a green stone on it (I'm assuming jade. She has knotted black hair.
Before reading on I want you to read over these symbols. Close your eyes and form your own picture.
The Picture
With 1 focal point for 4 different groups of people I just let your imagination run free. You created an image of the 6 people. Whether or not the image was the exact same as the scene is irrelevant. What matters is that I controlled the scene as I wanted and let you fill in the blanks so you could have ownership over it.
My guess is that you probably visualized the people as such:
The woman with the beige bra strap was disheveled. Maybe a tired house wife who desperately needs a break from her life.
The two women and a man speaking Spanish are darker skinned people. They consist of a married couple and a friend who they met for coffee. Nothing more, but I didn't want you to spend too much time thinking about them. They filled in the space.
The girl to the left of me is a student (the iMac kinda gives it away). It's summertime so likely University or higher ed. My guess is that you imagined her as pretty, not hot, but pretty. Which she was. (Note: In case you're wondering I did give her a smile when she looked up but she didn't reciprocate. Maybe next time I'll show her my wicked cool website.)
The woman wearing the beaded necklace with knotted hair was meant to be spiritual. You probably overdid it and made her into a gypsy whose tears cure aids.
It's a fun exercise because you can control peoples imaginations with the careful use of a few detailed descriptors. If I wanted you to think of a happy house wife I may have described a content smile as she read the newspaper with a dog by her side. Instead of anatomy notes the girl on the iMac could have been made out to be younger with a gossip mag by her side.
Now You Try
Play around with this. It's fun. Sit in a coffee shop or on the subway and look for 1-2 focal points on the people around you. That night sit down with a notepad and recreate the scene. Write down the focal points and give a friend the notepad, ask them to describe the subway train the way they see it.
As much fun of a game as this is it's a powerful way to get your idea across. Information overload is making it very hard to get people to read your entire article. You must get your message across quicker and more succinctly. By selectively inserting focal points into your written work you allow the reader the greatest joy of all — to build their own scene.
So start picking and choosing your symbols carefully. Nobody is impressed with big words or long-winded sentences. Be as simple as you can — but no simpler. Never forget to tip your coffee, ever so slightly.
Want me to publish some more of my experiments with focal point observation? If I get 30 comments my next blog post I'll share some gems. Comment below and tell me some of the symbols that jumps out at you when walking down the street.
Photo credit: Lost in Customs
Comments